Space Travel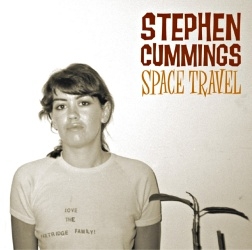 From the day I was born, I've been searching Searching for something I can't find And here I go again … - From The Day I Was Born
"My name is Stephen, and I'm a melancholic …"
Stephen Cummings is an Australian folk/roots pop singer-songwriter. He has been making music for more than three decades. The quest for the perfect pop song continues with Space Travel, his new album, which comes 30 years after The Sports' first record, and 25 years after his debut solo single, We All Make Mistakes.
Excluding a couple of compilations and a live disc, Space Travel is Stephen's lucky 13th solo album.
Some guys have all the luck/ I don't have any - I Remember
Space Travel was produced by Stephen's good friend Bill McDonald (Four Hours Sleep), recorded at Bill's home studio, Flippy-Flop. The album was mixed by long-time collaborator Shane O'Mara.
This is how Stephen explains the record:
"Space Travel is my 13th proper full-length album. We recorded it over a series of short sessions in Yarraville with Bill McDonald, Billy Miller, Peter and Dan Luscombe. Shane O'Mara mixed the album back in his Yikesville studio and spa. The songs were written mostly during the summer of '06. I don't want to go into too much detail about the songs, but I will point out that there are my usual themes of forgiveness and fucking up."
For more information about Stephen Cummings and releases click here to go to the artist page
Track Listing Show
Little Girl On a Sofa
No Stopping
It's Not Me, It's You
I Remember
Hey Kitty Kitty
From The Day I Was Born
Who Want's To Buy A Broken Heart
El Duderino
Hurry Hurry Let's Go
Going To Turn You Around
I Sit And Think Of You
Buy Music
Cat# HEAD186
iTunes
Hi Res Download
1800 802 061 Phone Orders Australia
+61 3 9537 7155 Overseas Orders