Faithful Satellite (The Black Sorrows)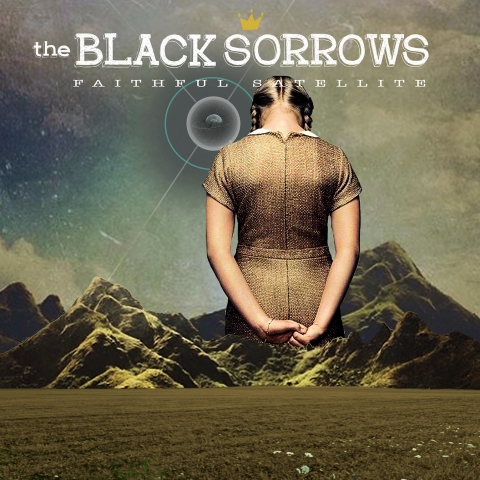 In the music of The Black Sorrows there are consistent threads and themes, a faithfully consistent darkness that adds depth to every note they play. Their upcoming release, the band's 20th album, Faithful Satellite, is no exception and will take Joe Camilleri and the band back on the road to celebrate with an extraordinary epic, 50 date, national tour.
Faithful Satellite is the successor to the band's last original and critically acclaimed album, Certified Blue (2014). Joe Camilleri and longtime writing partner, Nick Smith, continue to be the masters of the eclectic. No musical style is left in the corner waiting for a dance partner, just as no dark human theme is left unrevealed. Swirling images of love lost, end of the line sea journeys, voodoo, Boot Hill and wild rock 'n roll joy rides define Faithful Satellite, a culmination of artistry which separates Joe from the rest.
"I've always cast a wide net," Camilleri admits, and why not? That's what keeps things exciting after all - for the artist and for the listener. "And it's a good rockin' band!"
The album was recorded at Woodstock Studios in Melbourne. Producer Joe Camilleri and co-producer John McAll have enlisted a stellar line-up of guest artists that include Vika and Linda Bull, the Davidson Brothers, The Silo String Quartet and some of the best young jazz players around.
The Black Sorrows are:
Joe Camilleri – vocals, guitar, sax, harp
John McAll – keyboards, vocals
Claude Carranza – guitar, vocals
Mark Gray – bass, vocals
Angus Burchall – drums
For more info on The Black Sorrows' 50+ date Faithful Satellite Album Launch Tour check out The Black Sorrows' website here.
Faithful Satellite is in stores 16 Sep 2016.
Track Listing Show
I Love You Anyhow


A sultry mooch harkening back to the prohibition era with rude brass and a prohibition swing.

Raise Your Hands


Gospel rockabilly calling all non-sinners to declare their subscription.

It Ain't Ever Gonna Happen


A dark cynical look with a Tex Mex tinged nylon string guitar.

Land of the Dead


Rock from an ancient time with a tip of the hat to the zombies and walking dead - first witnessed in Return of the Voodoo Sheiks on Certified Blue.

Cold Grey Moon
Fix My Bail


A bluegrass jig. White trash moonshine sees a little bit of trouble and a night in the lockup. Anybody come and fix my bail?

Carolina


Southern drawl. A simple yearning for a sexy southern belle.

You Were Never Mine
Winter Rose
Love Is On Its Way


A dedication to a forty year colleague which, unfortunately with the death of the great Ross Hannaford, became a tribute.

Beat Nightmare
Into Twilight
Buy Music
Cat# HEAD230
iTunes
Hi Res Download
1800 802 061 Phone Orders Australia
+61 3 9537 7155 Overseas Orders